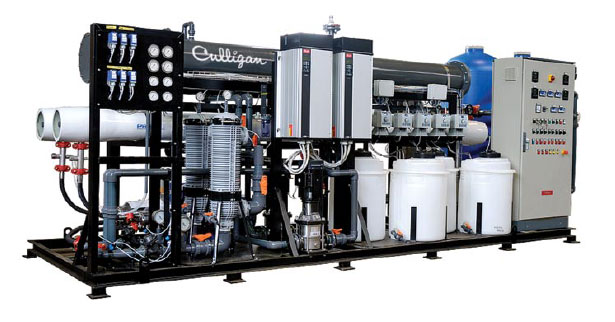 Customized water treatment systems are increasingly in high demand. Businesses have a need for high-purity water and want an industrial or commercial water treatment system that will meet their needs efficiently. We specialize in providing businesses just like yours with customized, tailor-made water treatment solutions.
With a custom water treatment solution from Culligan Industrial Water, you will receive a water treatment system that is planned, designed and executed to meet your exact water quality and purity specifications. Our experienced engineers will listen to your concerns, evaluate your water treatment needs. With an idea of those needs and concerns we can recommend the very best in Culligan's innovative water treatment technology. Our water treatment experts can also advise you on our many water filtration and purification capabilities, including: water softening, reverse osmosis, deionization, media filtration, dealkalization, and more.
Water Treatment Solutions
We have designed and implemented tailor-made industrial and commercial water treatment solutions for: hospitals, hotels, manufacturers, casinos, repair shops, and luxury resorts, just to name a few. Contact one of our local dealers today. We'll tell you how a customized water treatment systems from Culligan can provide you with a streamlined water purity solution. Even the toughest contamination challenges can be resolved with one of our custom, multi-stage water treatment systems! See designs of some of the custom water treatment systems we have developed in the past are available here.
Call us today! Our experienced water treatment engineers design customized water treatment systems for commercial & industrial business.